W
hen Jed McCrory's consortium completed its takeover of
Swindon Town
in February 2013 I was relieved rather than elated. Administration had been averted and Swindon Town's short-term future seemingly secured. The financial madness of the Di Canio and Wray era in which Swindon's annual wage bill, according to reports, had ballooned to £4m, would not continue. An era of austerity had begun, but at least Swindon Town would carry on.
Although I was happy that Swindon's de facto owner, Andrew Black, had found a buyer for the Club, Jed McCrory did not instil me with a great deal of confidence. For a start Jed and his consortium were not men of means. Jed was the owner of Banbury United with a number of vague business interests whereas Andrew Black was a former major shareholder in
Betfair
with a personal fortune estimated to be £100 million-plus. I suppose Jed might have had a bob or two more than a previous Swindon Town Chairman, Peter Archer – a former market trader with a flower stall – but, for a football league Chairman, he seemed on the skint-ish side. The mighty
Cheltenham Town
had also rejected his advances a few years previously.
McCrory's lack of means was not offset by a sincere, trustworthy demeanour. With his duck's arse quiff – a haircut for a man of younger years - and a slovenly, beery comportment, he came across (to me anyway) as a chancer; a man lacking integrity and ballast; the man to front the 'Daz Doorstep Challenge'. A few Swindon wags named him 'Jeddah the Hutt'. He couldn't have been more different from the last Swindon Chairman to launch a takeover, Andrew Fitton, with his faintly plummy accent and his Japanese philosophy of continuous improvement: 'be patient and allow things to unfold'.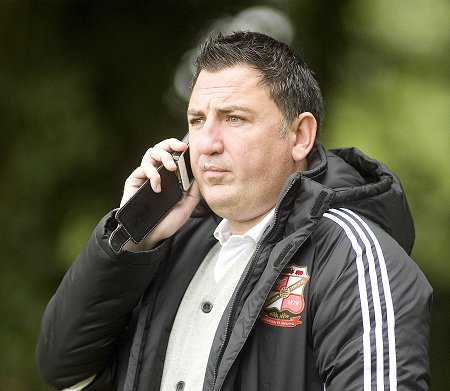 Jed's ambitions for the Club were hazy. He thought that Championship football could be achieved on a reduced playing budget. Had it been Arsene Wenger or Billy Beane advocating this notion I would have lauded it, but, from Jed, it didn't seem quite right.
Still, he had energy, and his idea of opening the Jan Åge Fjørtoft* bar at the County Ground exercised me (in a good way). He must have passed the Football League's '
fit-and-proper-persontest
' so he can't have been that bad. He probably wasn't planning on using Swindon Town as a money laundering vehicle. He was not Carson Yeung. I put my misgivings to one side.
Sixteen months later, June 2014, after Nicholas Strauss QC's concise and withering judgment, Jed McCrory was gone; his ties with Swindon Town finally severed. The judgment mercifully brought an end to a dispute between Jed McCrory and Lee Power over the ownership of Swindon Town.
McCrory's tenure as Swindon Chairman actually ended in December 2013 when Lee Power (part of McCrory's consortium) assumed control of the Club after triggering a share option agreement. The agreement recognised Power's financial contribution and brought to light that he had pretty much stumped up all of the readies to facilitate the takeover in February 2013. It turned out that Jed McCrory's financial contribution had not been vast.
It seemed that that was the end of Jed's association with Swindon Town. However, after a couple of months in the wilderness, plotting away, he returned alleging that the share option agreement, which Lee Power exercised, had expired/had no legal standing; a contention that always seemed spurious given McCrory's minor/non-existent financial contribution and the inaction of several months after his departure before he issued legal proceedings.
Ruling in Lee Power's favour, Nicholas Strauss QC said 'I frankly don't believe Mr McCrory's evidence'. Given the circumstances who would? We also learnt at the hearing that on Jed's departure in December 2013 he alleged that Lee Power had been involved in match-fixing; the allegation of a desperate charlatan. Nicholas Strauss QC ordered Jed McCrory to pay c£50,000 in legal costs, which is probably more than he ever put into Swindon Town.
Given the boardroom turmoil, 2013/14 was a very successful season for Swindon on a number of fronts. The inherited annual wage bill of £4 million was reportedly cut to £1.8 million; the Club finished just outside the play-offs with a virtually new team; Swindon secured the permanent signings of some very talented footballers; and played some of the most aesthetically-pleasing football in the division. It was Moneyball-esque. The credit for this upturn rests with the owner – Lee Power; the manager – Mark Cooper; and assistant coach – Luke Williams.
Lee Power has radically altered the model of Swindon Town with two simple tenets. The first is financial sustainability. Power wants the Club's annual wage bill to be £1.5 million or lower, which should be accomplished by the end of the 2014/15 season. The second, that the Club must play attractive, passing football.
Of course, these ideas are not unique –
Crewe Alexandra
has been practising these for years – but Swindon's approach is quite different. Crewe has achieved these tenets by promoting youth team players from their lauded academy; technical players who are comfortable in possession and capable of playing passing, attractive football. Unlike Crewe, Swindon does not have a lauded academy which would take many years and considerable investment to attain and, in any case, is less attractive in the Bosman era. Swindon take young, technically-gifted players who have generally been trained at Premiership clubs, often on season-long 'youth loans' – a type of cheap loan deal for players under the age of 21. Other clubs also do this, but last season Swindon did this on a large scale – recruiting three players on loan from
Tottenham Hotspur
on season long loan deals: Alex Pritchard, Ryan Mason and Grant Hall. Swindon's end of the bargain is to give these players an opportunity to play in the first team in an environment in which they play passing, technical football. Swindon also stresses the attraction of sending a cohort of young players from the same club as the players will develop and progress together – a bit like La Masia (I jest) or perhaps more accurately Tottenham's B Team. Greg Dyke: I implore you to come to the County Ground to show you that there is no need to create a Premiership B League.
Due to work commitments and various other reasons I was unable to watch Swindon play very much last season. However, I did manage to watch Wolves v Swindon at the Molineux when Swindon lost 3-2. Swindon did not deserve to lose. They dominated possession and carved out several clear-cut goal scoring opportunities which they squandered. It was the most technically-proficient football that I have seen Swindon play since the Glenn Hoddle era. I was bursting with pride (irrational I know as it had nothing to do with me). Wolves had a playing budget that was probably five to ten times the size of Swindon's and Swindon were playing the better football. They were playing, to quote Roberto Martinez, 'sin miedo' (without fear). Lee Power, Mark Cooper and Luke Williams: many thanks.
*A former Swindon Town striker and darling. He is now a major football presenter for German TV and revered for breaking the news of Ozil's transfer to Arsenal.